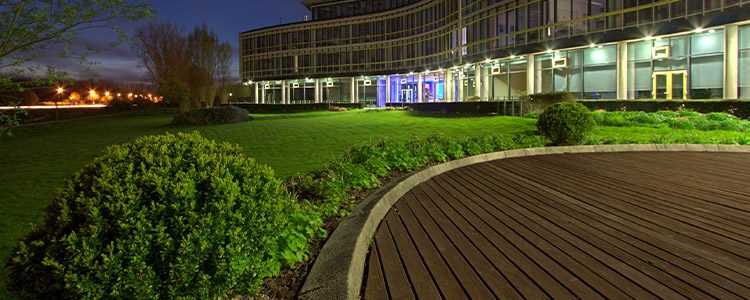 Welcome to the ReddStar Maintenance Group blog! As a leading expert in property maintenance, we understand the vital role that a well-maintained landscape plays in enhancing the aesthetics, functionality, and overall value of commercial properties. In this article, we will delve into the importance of landscape maintenance for commercial properties and how it can positively impact businesses. So, let's explore the many reasons why investing in landscape maintenance is a smart decision for property owners and managers.
Curb Appeal and First Impressions
Imagine walking up to a commercial property with overgrown grass, unkempt shrubs, and debris scattered around. The first impression might not be favorable, and that could potentially deter potential customers, clients, and tenants. A well-maintained landscape, on the other hand, creates an inviting atmosphere that leaves a positive lasting impression. The curb appeal of your property can influence a person's perception of your business, and a well-groomed exterior communicates professionalism, attention to detail, and a commitment to quality.
Positive Tenant and Employee Experience
For commercial property owners, maintaining an attractive landscape isn't just about impressing visitors—it also contributes to the well-being of tenants and employees. A thoughtfully landscaped environment can boost morale, improve employee productivity, and even attract higher-quality tenants. People are naturally drawn to pleasant surroundings, and a well-maintained outdoor space provides a place for relaxation and recreation during breaks, enhancing the overall work environment.
Environmental Benefits
Landscape maintenance isn't only about aesthetics; it also carries significant environmental advantages. Well-maintained landscapes help control erosion, reduce water runoff, and improve soil quality. Properly selected and placed plants can provide shade, reducing the need for excessive air conditioning during warmer months. Additionally, a well-maintained landscape can serve as a habitat for local wildlife, contributing to the ecosystem's health and biodiversity.
Property Value Appreciation
Investing in landscape maintenance is a strategic move that can positively impact your property's value over time. An attractive and well-maintained landscape can significantly increase the resale value of your property. Potential buyers are often willing to pay a premium for properties with beautifully landscaped exteriors, as they recognize the long-term benefits and enhanced appeal.
Regulatory Compliance
Many municipalities have regulations in place that require property owners to maintain their landscapes. Neglecting these responsibilities could result in fines and legal issues. By proactively addressing landscape maintenance, you not only avoid potential penalties but also contribute to a more visually pleasing and harmonious community.
Cost Savings in the Long Run
It might seem counterintuitive, but investing in routine landscape maintenance can actually save you money in the long run. Regular maintenance prevents issues from escalating into larger, more expensive problems. For example, addressing pest infestations early or identifying irrigation system leaks promptly can prevent extensive damage and costly repairs down the line.
ReddStar Maintenance Group For Your Commercial Landscape Maintenance
At ReddStar Maintenance Group, we believe that landscape maintenance is an essential component of effective property management. A well-maintained landscape not only enhances the visual appeal of commercial properties but also fosters positive experiences for tenants, employees, and visitors. By investing in landscape maintenance, property owners demonstrate their commitment to professionalism, sustainability, and long-term value.
If you're seeking a partner to ensure the impeccable maintenance of your commercial property's landscape, look no further than ReddStar Maintenance Group. With our expertise, attention to detail, and dedication to client satisfaction, we're here to help your property flourish. Contact us today to learn more about our comprehensive maintenance services.
https://reddstarmg.com/wp-content/uploads/2023/08/commercial-landscape-maintenance-blog-img-OFW.jpg
300
750
Redd Star
/wp-content/uploads/2019/07/logo-1-300x192.png
Redd Star
2023-08-28 11:11:27
2023-08-28 11:11:27
Understanding the Importance of Landscape Maintenance for Commercial Properties